I have a unique understanding of the ups and downs of public markets as a former financial derivatives trader who was in the market 24/7 throughout the "Great Recession." For the past 12 years, I've been actively investing in alternative asset classes.
When clients come to me with questions regarding stock market options, they typically fall into one of three categories:
Psychologically, seeing the market's ups and downs every day is too much for them. They're young, have seen many stock market crashes, and have basically watched the stock market go nowhere in their lifetimes. They want to be a part of something substantial or something they have more direct control over.
I've seen a lot in my 12 years of looking for stock market alternatives, so I wanted to share a few solid ones with you today. In one way or another, I've invested in each of these concepts. There are excellent possibilities for everyone, whether you have $1,000, $10,000, or $100,000.
Real Estate
For decades, real estate has been a sound investment. Although there are occasional busts, they are generally confined and preceded by a purchasing frenzy, as seen lately in San Francisco. Real estate can be purchased in a variety of ways. In 2010, I purchased my first commercial property from a bank that had to foreclose. We were able to turn it around after a lot of hard work, and it has paid off handsomely.
Other opportunities for investing in various types of real estate include:
Acretrader – Farmland
Single-family homes – Roofstock
Commercial – RealtyMogul ($5,000 minimum)
Your Own Residence
Housing is flourishing, and given the current position of monetary policy, it should keep rising. Borrowing has never been more affordable than it is now, thanks to historically low-interest rates. You may expand on to your house, purchase a higher-quality property, or just refinance your mortgage at a cheaper rate and receive a significant cash refund. People I know have refinanced their homes into 15-year fixed mortgages, saving over $100,000 over the course of the loan!
Peer-to-Peer Lending
Peer-to-peer lending is a third stock market option that I like. If you're unfamiliar with peer-to-peer lending, it's a relatively new concept that has exploded in popularity in recent years. There are a few significant participants in the industry, but Lending Club and Prosper are the two you should look at. Jeff uses Lending Club and has had great success with it.
What is peer-to-peer lending, exactly? It's exactly what it says on the tin. You lend money to a peer and are subsequently compensated with the interest rate. You've essentially taken on the role of the borrower's banker. For a change, it's good to be on the other side of the equation.
Let's imagine you make a $1,000 investment in Lending Club. Only $25 of those thousand dollars would go to a single borrower, so you wouldn't lose a lot of money if that borrower defaulted.
Consider it similar to investing in a mutual fund. Even if one of the stocks in that mutual fund goes bankrupt, the other 99 stocks in that mutual fund will continue to make you money. The same thing happens with Lending Club, which is one of the reasons I enjoy it. You're diversifying your loan portfolio; you're not placing all of your eggs in one basket.
Commodities such as gold, silver, and other metals
Precious metals, such as gold, are typically purchased when the financial system is under great stress (e.g., end-of-the-world scenarios) or when significant inflation is projected. As a result, they have a lower correlation with other financial assets. Gold is currently trading at above $2,000 per ounce! Stimulative monetary policy throughout the world is driving this.
Other commodities, such as copper, aluminum, and cereals, follow economic trends. Commodities are frequently considered risky investments since they don't distribute any cash; yet, most portfolio managers recommend having some exposure to commodities.
Physical commodities can be purchased or financial ETFs that mirror the physical price can be purchased. GLD is an exchange-traded fund that invests in gold. Any online brokerage account may be used to buy ETFs for metals and commodities.
Bitcoin And Other Cryptocurrencies
This one terrifies many, but I continue to believe in the long-term viability of some cryptos as internet-based digital money. I've been investing in cryptocurrencies since 2014, and while I've moved in and out of a variety of currencies, my main holdings have been Bitcoin, Ethereum, and a few others. Bitcoin, for example, has been present since 2011, and its applications are growing.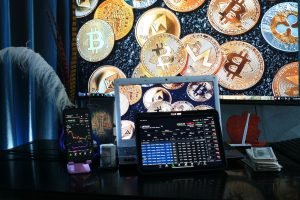 Fortunately, I've been able to profit handsomely from cryptocurrencies. We'll have to wait and see what the future HODLs bring!
Fine Art, Antiques, And Rare Mementos
Antiques are another stock market option. Jeff's stepfather has been collecting ancient toys for a long time. This is a collection of toys from the 1930s, 1940s, and 1950s. He put money into a variety of paintings and other forms of art. He was also a major Lionel train fan, with a whole spare bedroom dedicated to them.
I've seen the value of some of them, and the amount they're worth astounds me. If you have a passion for antiques, investing your money in them might be a wonderful option for you. Masterworks is a simple way to get started – buy fractional pieces of beautiful art and watch the value skyrocket!
Sports Cards
When you were younger, did you collect sports cards? That market, on the other hand, is currently exploding. Sports cards, like other kinds of art or memorabilia, have risen in value through time as individuals seek unusual and desirable items to invest in.
A rookie card of LeBron James recently sold for $1.8 million! Take a look at this pricing chart for a mint Honus Wagner, one of the world's rarest cards.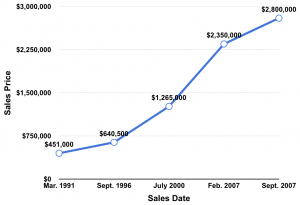 The value of a sports card is genuine. My buddy recently made a six-figure investment in cards by searching for cards of players who may have just fallen out of favor but are unquestionably Hall of Famers. At the very least, get your old cards out of the closet and see what they're worth!
Put Money In A Small Business
If you're lucky enough to find attractive offers, you may invest in private equity or venture capital, which allows you to make direct investments in private companies. You must also be an "accredited investor" in order to do so. Over the years, I've made investments in restaurants, technological companies, and medical clinics.
There is, however, another option. Entrepreneurship – founding a firm, buying a franchise, or partnering — is becoming increasingly popular as a means of directing one's own destiny. Jeff has done this in the past with his advising business and now with this website!
He also has a friend who has successfully opened many franchise shops. He's probably visited ten venues so far and shows no signs of stopping off.
To begin started, you may acquire websites and digital companies on sites like Flippa and Empire Flippers. On such sites, you may learn how to acquire these firms and become familiar with the procedure.
Do you want to learn more about establishing a business? Check out these "13 greatest small-enterprise ideas" and "65 home-based business ideas" articles.
Make An Investment In Yourself
This one may come as a shock to you but think about it. One thing you can always put money into is yourself. How do you go about doing that?
One method is to improve your skills. Knowledge is power, and thanks to the internet, you can learn about almost everything. Here are some excellent resources for improving your skills:
Another option is to return to school and obtain a degree that will enable you to advance to the next level. Jeff began by investing in credentials such as the CFP® qualification. Perhaps you aspire to be a Certified Public Accountant (CPA). There may be particular certifications in your area that might help you get a raise or open up new prospects at work.
For example, I've spent a lot of money on expensive classes to master Facebook advertising, SEO, email marketing, and Google AdWords. Hiring a coach is another method to invest in yourself. Perhaps you might hire a personal development coach. I'm now working with an entrepreneur coach, and I can assure you that the investment has been well worth it.
Alternatives to Stock Market Investing
These are just a handful of the stock market options that are available to you. Some of them are unconventional, and while they may be less liquid than stock market investments, they provide a significant return on investment and satisfaction. Have you thought of investing in something other than the stock market? Tell us about your experience in the comments section!
(Visited 3 times, 1 visits today)