Godwin Emefiele, Governor of the Central Bank of Nigeria (CBN), announced the central bank's intention to redesign and issue new 100, 200, 500, and 1,000 notes on Wednesday, October 26, 2022.
According to the governor, President Muhammadu Buhari had given his blessing to the development. Therefore, before the deadline of January 31, 2023, Nigerians who own cash in any of these denominations must return it to their banks.
The governor gave an explanation for the bank's decision to redesign certain naira notes, noting that despite the fact that the procedure should be repeated every five to eight years according to international best practices, the naira has not undergone a redesign in the previous 20 years.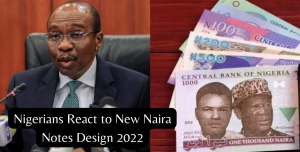 He said that the new currency will go into circulation starting on Thursday, December 15, 2022, and listed further justifications for the shift, such as Nigerians' stockpiling of notes, the rising risk of counterfeiting, and the lack of clean and suitable banknotes.
Naturally, Nigerians have responded to the decision. While some have applauded the decision, others believe the bank should not have made it. Here are a few comments made by Nigerians on social media.
This CBN redesign of notes will have some positive impacts on our economy if we must be honest. It's not a farfetched truth that billions of money in cash are kept in vaults, locked up in rooms, and buried underground by BIG MEN.
It's either they bring them all out or lose them.
— Bayelsa Cruise Merchant (@KingErefitei) October 27, 2022
Buhari wants to use it and hold some politicians on their neck. Can they have the chance to change their naira notes before the deadline?

— ???????™  (@Max__Prodigy) October 27, 2022
We might see an increase in the velocity of money as black money can't just be taken to the bank they will have to spend it, that would lead to demand induced inflation. Increase in velocity will mean an oversupply of Naira in the market so it will add downward pressure on NGN.

— Ayobami (@dondekojo) October 26, 2022
(Visited 26 times, 1 visits today)